---
---
WHERE TRADITION MEETS INNOVATION
Matrika's table revolve around materials that represent Italian heritage and tradition, but at the same time have the impeccable build and technical qualities that only a real factory can guarantee.
Our factory is located in Pero and has been operating in sign production since 1973.
In 2019, Mattia initiated a comprehensive revolution that enabled the factory to transform and innovate itself. He provided technological resources to aid communication between production and the technical department, and completely reorganised the manufacturing process.
The fundamental asset Matrika is leveraging is the decade-long experience of the specialised craftsmen and tilers who contribute to an impeccable product. At the factory, the tables are put through the various processing stages. From their design and prototyping to the production of their structures and legs from raw material, the tables' frames and legs are then assembled, followed by the tiles.
Breaking the distribution barrier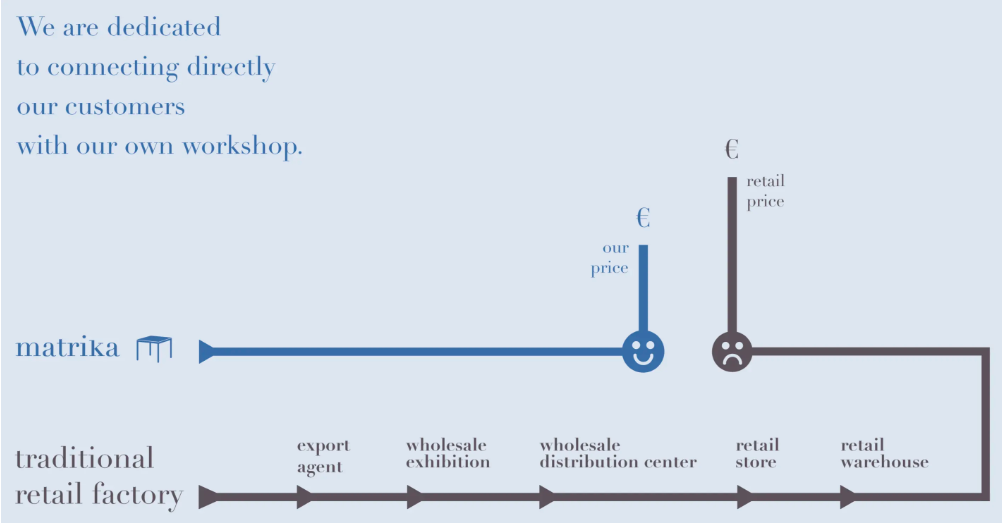 Flexibility is our asset, quality our priority
Building our products in our own factory gives us the flexibility to adjust to our clients' needs and easily accommodate for changes to our standard designs.
From simple tweaks, like setting a different choice of tiles on the table top or changing the color of the frame and legs, to more complex ones, like modifying the height of the table or the measurements of the frame, to radical changes, like devising a design from scratch: we can do it.
We closely control the quality of every piece that leaves our factory, and we like to communicate with our customers at each production stage.