For many families, the dining room is one of the most important rooms in the house because it brings people together to share meals and conversations.
A dining table is often the most notable piece of furniture in the dining room and is a great opportunity to make a statement. We highly recommend taking a tiled table under consideration as nothing can beat the style and functionality it offers.
Along with being striking, tiled tables are easy to clean and maintain. Tiles come in a huge range of colours and patterns meaning that you are sure to find something that best suits your needs. Whether you want something to match the colour of your walls or to add a bit of visual interest to your décor, we are confident that you will find what you're looking for.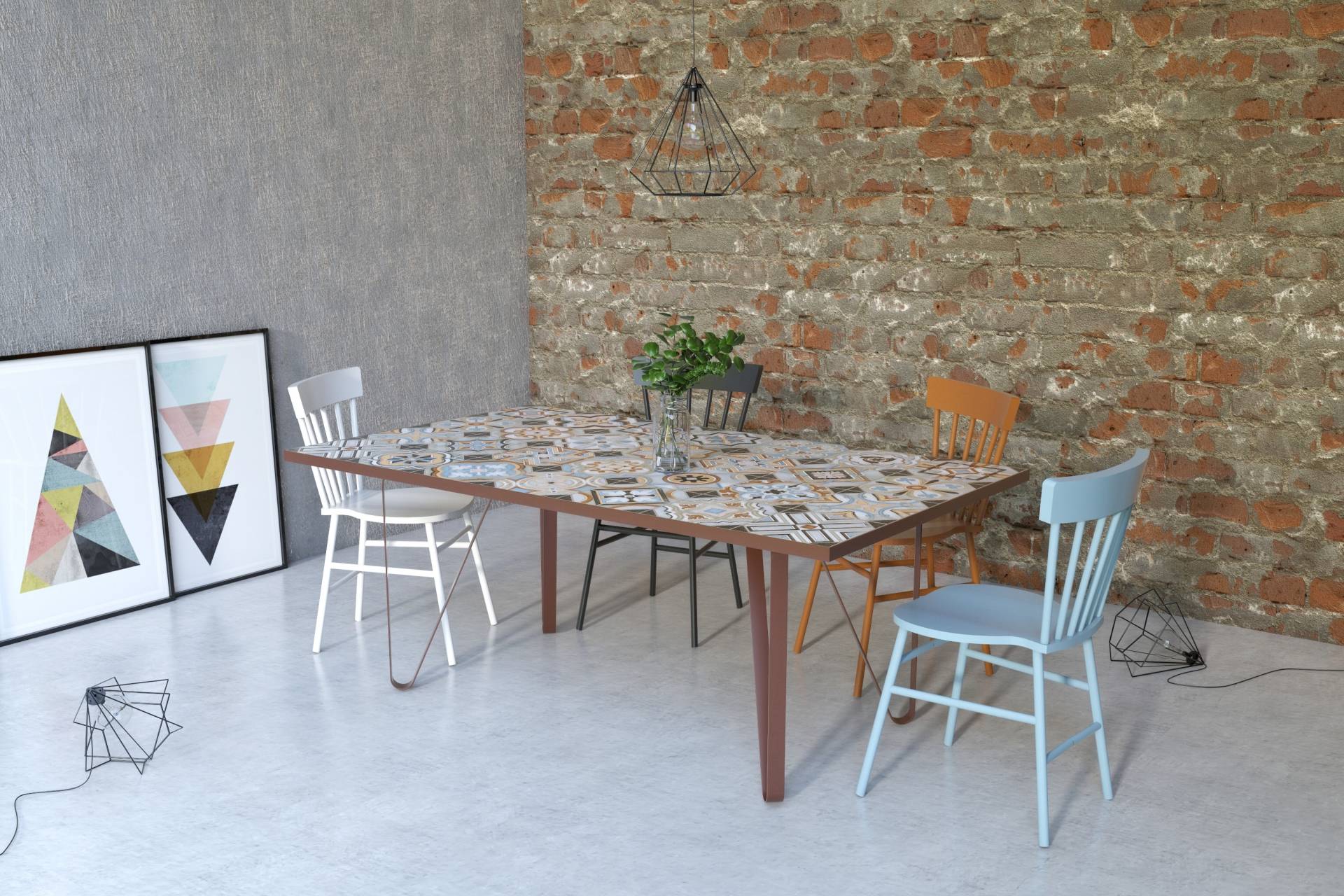 Apart from the aesthetics, it is important to remember that chairs are necessary for elevating your dining experience by providing extra comfort. If comfort is your main priority, we would suggest looking into dining armchairs as they are more plush. However, there are many styles to consider such as Parsons dining chairs or dining benches.
Dining chairs are available in many different shapes, materials, designs, and colours. All of these choices might make choosing the best chairs for your dining table a daunting task. In order to familiarise yourself with a few of the most popular options available on the market, we suggest having a look at swivel chairs, dining armchairs, wingback dining chairs, and leather chairs. However, if you are creative or know exactly what you are looking for, searching for the right chairs could be a fun challenge.
If you are trying to decide between a chair with or without casters, we urge you to consider the type of flooring it will be used on. If you have carpeting or rugs in the dining area, dining chairs or swivel chairs with casters are not the best idea as they can cause damage to the rug or carpet. Dining chairs and swivel chairs with casters would be best in a dining area with hardwood or tile floors.
If you would like a second opinion, we suggest visiting a local dining chair retailer. They will be more than happy to assist you in choosing dining chairs that best suit your needs and price range. Slipcovers are also something to consider if you want an easy and economical way to match chairs with a dining table. If you are simply not able to find the kitchen chairs of your dreams, you might want to consider ordering a bespoke set.
However, be aware that bespoke products often prove to be expensive as they are made to order. A well-matched dining table and chairs not only enhances the look of the dining area but also creates a positive impression on your guests.
The functionality of the dining chairs is also something to be considered. For example, dining chairs can be purchased with or without cushions. If you have kids at home, chairs without cushions or removable cushions will probably be an ideal option as you can reduce the risk of having stained cushions in your dining area. Slipcovers can also be used to protect furniture and come in various colours, sizes, and designs.
If you are hosting a party of a gathering at home then dining chairs alone may not be enough to accommodate your guests. In such cases, occasional chairs or lounge chairs that blend in with your colour scheme can be used without seeming out of place.
While your tiled table will be a gorgeous statement piece in your dining area, the chairs will ensure that you and your guests have a thoroughly enjoyable dining experience.
Considering a tile table? Take a look at our collections!