Discover our top coffee table décor tips

Arguably a key component in any lounge or living room, the coffee table serves a dual purpose. Whilst its primary function is to provide storage space and/or a surface for refreshments, it also creates a focal point in the room, filling what would otherwise be an empty space.
Your coffee table should not only generate a feeling of style cohesiveness but should also draw the eye towards the centre of the living space.
Whatever table you opt for, there are a multitude of different ways to decorate it in line with your personal tastes and requirements. Read on to discover our top coffee table décor tips.
How to style your coffee table

When choosing and styling a coffee table, think carefully about your needs and its function in the room.
Do you want to maximise storage space in a bijoux apartment? Consider a lift-top table or one with shelves.
Looking to create an interactive rather than a static space? Nesting tables or coffee tables with pull-out surfaces let you adapt the room for different purposes.
It is perfectly possible to use your table for storage without detracting from the overall look. Wicker baskets look great nestled under an iron-framed, industrial-style table, whilst decorative bowls and trays can be used to store keys, remote controls and other items without a home! Coffee tables with shelves and drawers let you store electronics, magazines and coasters out of sight, leaving the top free for decoration.
Balance is an important factor to consider when decorating a coffee table — a busy tabletop display or vignette can overwhelm the space and leave your lounge feeling cluttered and stressful. If your table is relatively neutral, you have more freedom to play around with colour, adding a vibrant rug or several patterned ornaments to create a unique focal point. However, if the coffee table itself already commands attention (see our Annalisa tiled table for an example!), exercise restraint with your accessories to let the design shine.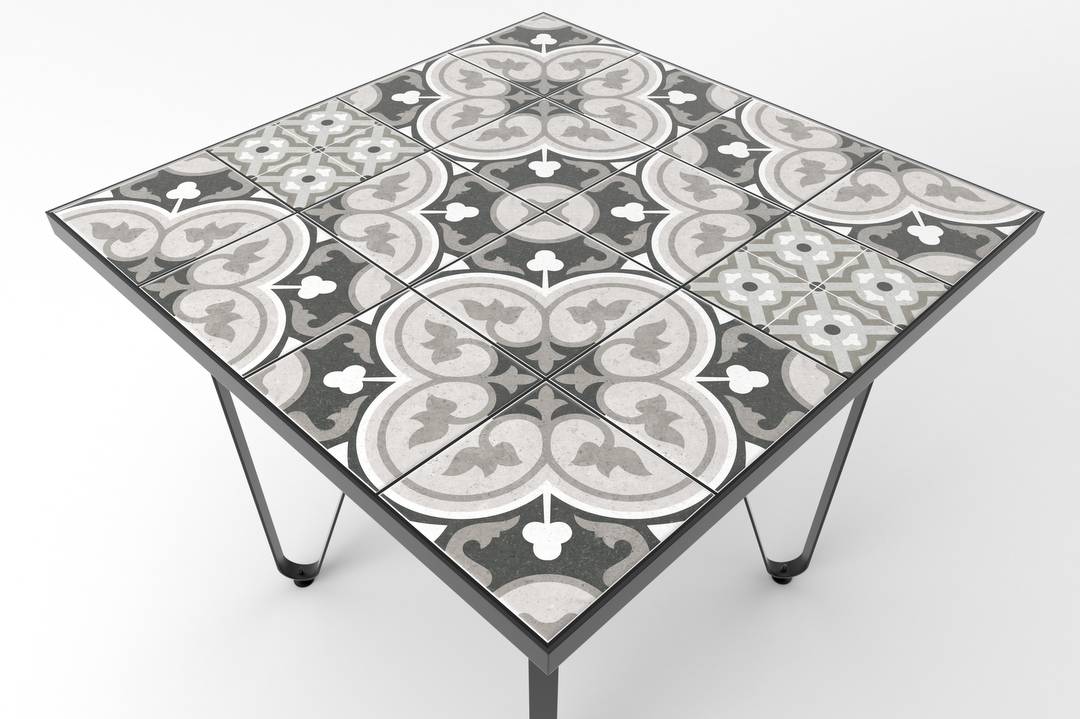 Creating the perfect coffee table vignette

A vignette is essentially a curated selection of objects that evokes a certain feeling or tells a story. A coffee table is the perfect blank canvas for creating a centrepiece that expresses your personality or style. Travel mementos, ornaments, books and plants can all be used to decorate the tabletop and form a central point of interest in your living room.
A tray, platter or shallow box helps to create a frame for your vignette and keeps it separate from the rest of the 'functional' table space. Select between three and nine (odd numbers generally have greater aesthetic appeal) decorative objects with an array of different shapes and heights. Try to maintain some kind of overarching theme (e.g. travel, nature or literature) so that the vignette feels cohesive and not overly contrived.
Play around with the composition of your vignette, bearing in mind the rule of thirds and being careful not to overcrowd the frame. Incorporating an unexpected element into the display can add visual interest, but ensure it doesn't detract from the rest of the layout. Feel free to get creative with the objects that you use and to switch them up every once in a while — a vignette should be a reflection of your personality and should not be so stylised as to be impractical or overdone.
Other coffee table décor tips

Coffee table décor is infinitely versatile and can be adapted to accommodate living situations, different layouts and the latest trends. The trick is to find a look that is not only aesthetically pleasing but that also works for your space.
If you have kids, fear not — it's still possible to create a stylish living room that is also child-friendly. Consider using your coffee table as additional storage space to tidy away toys at the end of the day, or create a unique and fun display by grouping together several vintage wooden toys, an abacus and some storybooks. If your children are slightly older, a bowl of fresh fruit will add colour to the tabletop and encourage healthy snacking.
If you're looking to jump on the 2019 biophilia trend, a coffee table is the perfect setting for an array of house plants, flowering cacti or glass terrariums. Our floral tile tables create a stylish backdrop for a lush green fern or a planter filled with succulents without overpowering the rest of the space.
Finally, if you're still unsure on how to best decorate your table, a stack of glossy coffee table books or a selection or a few scented candles are fail-safe options. Just remember to opt for a curated selection rather than every book or brand that you know and you'll soon be styling like a pro!
Find a table to express your style in the collections by Matrika. Built with local, high-quality materials and handcrafted in Milan, each table has its own unique style and personality.