Summer is in full swing and it's time to give your balcony a little love.

With some design inspiration, you can turn your outdoor space into a cosy oasis that is perfect for relaxing alone or with friends and family. Whether you have a small or large balcony, we have some decorating ideas for you that will work in any space.
Andrea, Black & White Collection
Step 1: Consider what type of furniture you want.

Deciding what furniture you want is a great place to start. Once you know the colour and style of your outdoor furniture, you can coordinate any additional accents or decorations for a cohesive look.
If you enjoy al fresco dining, a tiled table and chairs is a fantastic idea. Tile is especially well suited to outdoor spaces as it is heat and water resistant. Additionally, with the wide variety of tile and colour patterns available, you are sure to find the right fit for any design style. If you have a small home balcony, you can still enjoy wining and dining outdoors. In this case, we would recommend getting a small table and two chairs or an outdoor bench and a chair.
If you're a bookworm, consider setting up a cosy space either in a corner of your balcony or facing outwards. You can accomplish this with a hanging basket chair or an outdoor sofa. In order to ensure the space is extra comfy, get plush pillows and a soft blanket. A small coffee table or side table would be perfect for setting down a cup of tea or glass of wine. It also provides you with surface space to decorate with fun accents such as candles, pottery or plants.
Now that you know what type of furniture you want to center your balcony around it's time to make a decision about flooring. Of course, if you like the current flooring of your balcony, then this step is easy. No changes needed.
However, there are many people that choose to change the look of their balcony flooring to better fit with their balcony decorating ideas. If you're looking for a low-effort way to change the look of your balcony floor, simply buy an outdoor rug or balcony runner.
Looking for something a bit more green? Artificial grass is also a great option if you want to have lots of plants in your outdoor space. If your willing to invest a bit more time, deck tiles are a great option. There are even models that simply click together and can be easily taken apart when you want to put them away or change them out. The next option is recommended for people who want to do a complete overhaul. Natural stone or ceramic tiles can also be professionally installed on your balcony and would nicely complement a tile table just as well as any of the other options.
If you are the type of person that highly values his or her privacy, a privacy screen is an excellent apartment balcony idea. It allows you to privately enjoy your time outdoors without neighbours being able to see you so easily. These screens are a convenient and affordable way to make your balcony feel more secluded. They also come in a variety of heights. If you have an awesome view and want to be able to enjoy it while on your balcony, we would recommend a shorter one rather than a tall one. However, if privacy is your main concern, a taller one would be the better option. They are available in almost every material and colour making them easy to coordinate with your other balcony decorations. Plants can also be used to create a bit more privacy while bringing you closer to nature.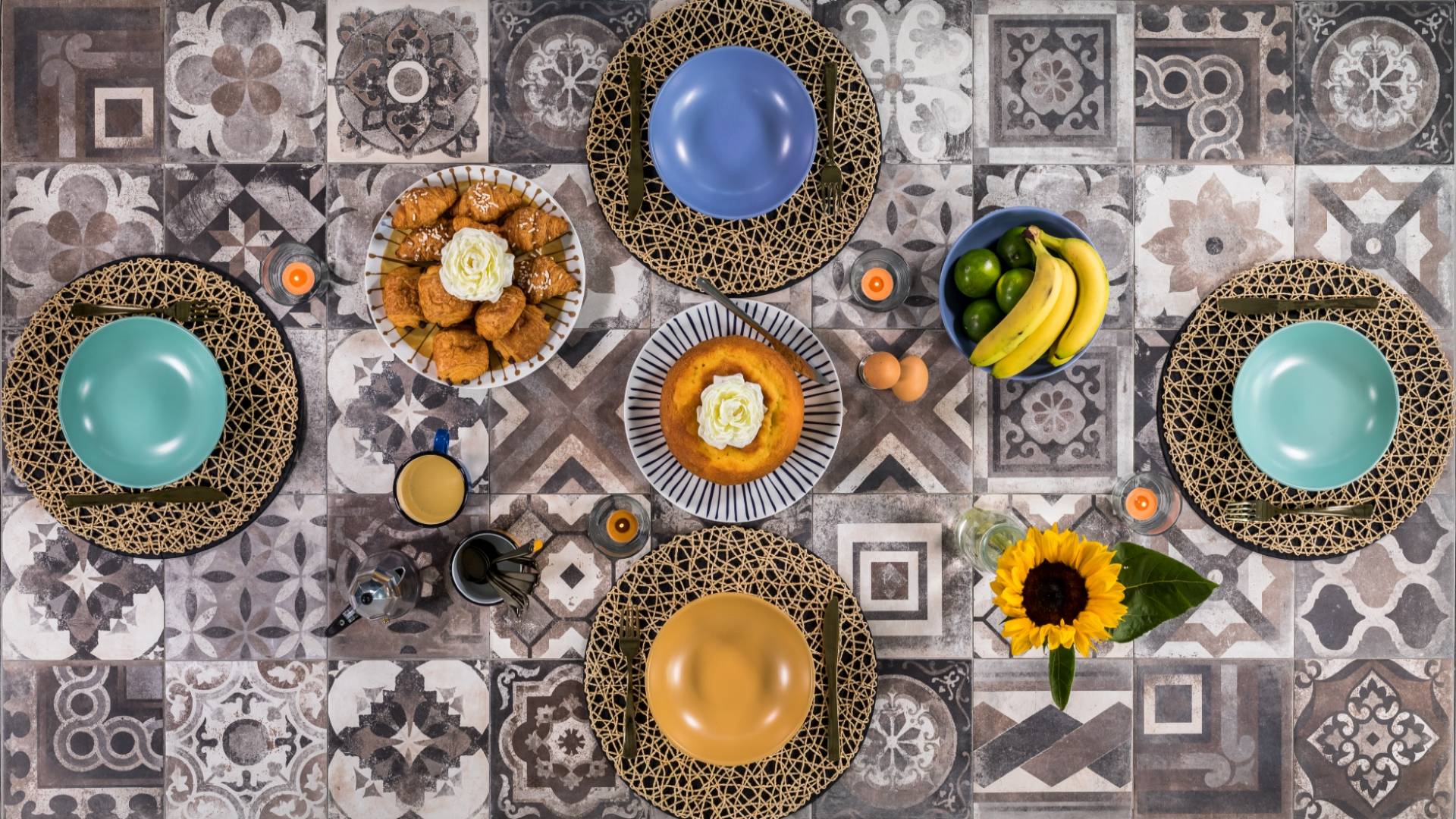 Summer nights are best spent outdoors. Enjoy the beautiful weather well into the evening by making sure you have enough light for the occasion.
String lights are a very popular option as they can often be hung by your railing or on other furniture. Lanterns, can also be used to provide a soft glow and can be placed on the floor or other flat surfaces such as a side table or coffee table. Aside from these easy lighting options, you may also want to consider installing a hardwired lamp to brighten up your outdoor space.
Now that all of the main pieces are in place, it's time to focus on adding those small touches or extra decorations that will give your balcony a truly personal touch. If you want to build an urban oasis, we recommend decorating with lots of plants and herbs. Buy fun planters to add a pop of colour. A planter ladder is a great way to maximise the number of plants you can fit on your balcony.
In addition to plants, there are many other options for balcony decorations. Decorative pottery or wind chimes are a great way to add both colour and an artistic touch. Crates are incredibly versatile and can be used as seating, storage space or a small end table.
Step 6: Enjoy your balcony!
We hope these apartment balcony ideas were helpful and we wish you lots of fun in finding and creating your perfect look.
Find a table to express your style in the collections by Matrika.
Handcrafted with local and high-quality materials in Milan, each table has its own unique style and personality.