Tiles are the next interior element to take the design world by storm.

Traditionally used to create practical, easy-to-clean surfaces in the kitchen and bathroom, tiling is now used to cover everything from headboards to tables. Want to create a feature wall in a courtyard or outside on the deck? Try boldly patterned porcelain tiles. Looking to create a unique focal point in your dining room? Invest in a stunning tile table with an inset mosaic tile design.
With manufacturers pushing the boundaries with new composite materials, the scope for design innovation is practically unlimited.
Read on to find out more about 2019's top tile trends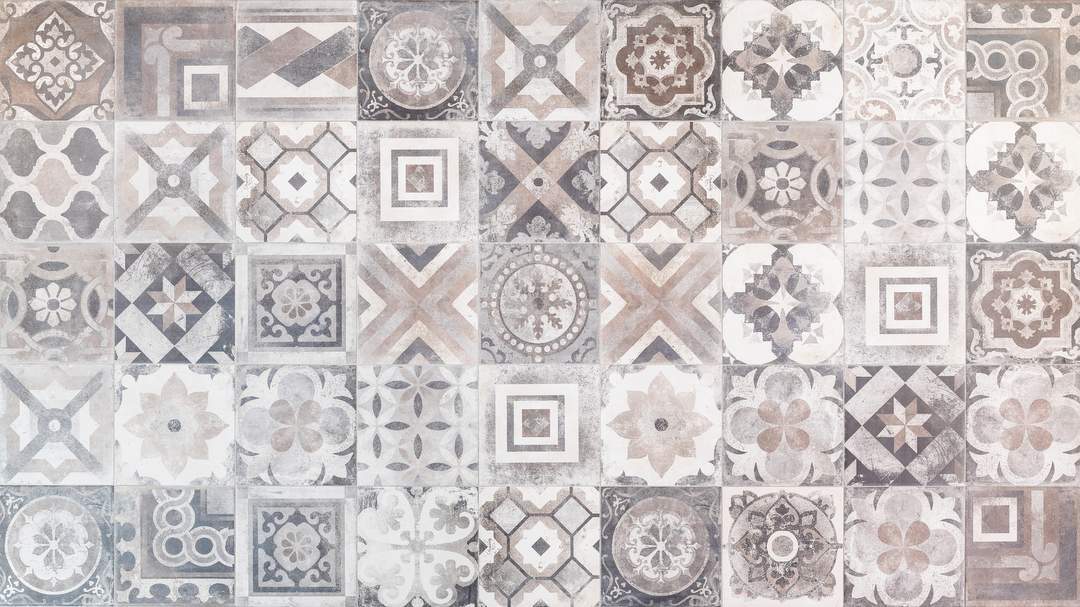 What are the most popular tile materials?
Tiles can essentially be made of any durable material but most varieties are fashioned from clay, glass or stone. Ceramic tiles continue to dominate the market thanks to their versatility and almost infinite number of design possibilities. Advances in digital printing have helped popularise hyperrealist faux concrete or wood-effect tiles, which are easy to install and offer great aesthetic appeal.
Ceramic tiles are porous and need to be glazed or sealed if they are to be used in any kind of humid environment. If you want to tile an outdoor space or install flooring in a high-traffic area, porcelain tiles are a much safer bet. Although harder to cut and shape, they are much less absorbent and more hard-wearing. They are also often homogeneous (impregnated with colour), thus eliminating the risk of chipped glaze.
Whilst marble and granite continue to be firm favourites for kitchens and bathrooms, composite tiles are on the up. Available in a wide range of colours and designs, they are a durable, low-maintenance option for worktops, floors and vanity counters. Go for matt white tiles for a contemporary bathroom, or polished, speckled tiles for kitchen surfaces.
What are the latest tile trends in interior design?

2019 is the year of experimentation, with textured, patterned and statement tiles featuring prominently in company catalogues. The reign of the metro tile continues but designers are now looking for new ways to unite past and present, drawing on 18th century motifs and retro designs to create stunning patterned tiles.
Terrazzo tiles continue their upwards trajectory, thanks to their versatility in terms of usage and design. These composite slabs are made by binding together fragments of stone and glass with cement. The effect can be bold or subtle, depending on the materials used and their concentration. Terrazzo is ideal for use in floor tiles, as is it durable and water resistant. It is also increasingly used for bathroom tiles, either to create a shower cubicle or splashback. The tiles are generally made using offcuts from other industries, making these slabs an eco-friendly option as well.
If you want to get ahead of the curve, tiled furniture is set to be one of 2019's top trends. From vintage cabinets inset with decorative artisan tiles, to tiled tables in a range of colours and styles, ceramic is no longer confined to the bathroom or kitchen. This makes it easy to experiment with more out-there trends such as coloured grout or metallic tiles, without committing to a full-on interior overhaul. A hexagon-tiled table makes the perfect accent in a mid century-inspired living room, whilst a gold-topped drinks cabinet adds a dash of Art Deco glamour.
Finally, texture gets its time to shine with the advent of 3D tiles. Great for adding subtle design interest, these contemporary tiles introduce a tactile element into the space and can be used for anything from feature walls to wetrooms. Opt for embossed tiles for a more traditional look or go full Space Age with multi-shape geometric tiles.
Whether you want to install a new kitchen floor, upgrade your bathroom or simply add decorative interest to a living area, it's never been so easy to embrace the tile trend. With manufacturers offering everything from textured herringbone kitchen tiles to boldly patterned tile tables, there are a myriad ways to incorporate more tiled surfaces into your home.
Explore the site to find design inspiration, photos, tips and more.

Considering a tiled table? Discover our collections! Our tables are produced and handmade in Milan with the best Italian tiles.